Novel coronavirus (COVID-19)
COVID-19 VACCINATION INFORMATION
PORT ALBERNI VACCINATIONS
Port Alberni COVID-19 vaccinations are being offered at the Alberni Athletic Hall and at the Port Alberni Friendship Centre. For the most up to date vaccination eligibility please visit Island Health's website: www.islandhealth.ca/learn-about-health/covid-19/covid-19-vaccine
ALBERNI VALLEY RESPONSE
Port Alberni, BC - The Alberni-Clayoquot Regional District (ACRD) and City of Port Alberni are actively monitoring the global, national, and local impacts of COVID-19 and are proactively preparing for any foreseeable potential impacts.
As the lead agencies for British Columbia, the BC Centre for Disease Control (BCCDC) and the BC Ministry of Health are closely monitoring the situation and will provide guidance to the public and local authorities. As local governments, our main role is to help provide accurate and timely information to the public, as well as protect our employees so that we can continue to provide and maintain services for our residents.
A COVID-19 Response Plan as well as a Path to Recovery Plan have been developed by the ACRD and the City of Port Alberni.
The Response Plan aims to help prepare for the potential arrival of COVID-19 and to strengthen preparedness at the local level, both publically and within the two government organizations.
The Path to Recovery Plan intends to chart a pathway for recovery in the region while taking direction from the Provincial Health Officer. The role of the Plan is to fit within the COVID-19 response and recovery framework provided by the Province
The ACRD is committed to ensuring the health, safety and well being of its employees at all times and, in particular, during the COVID-19 pandemic and has developed a COVID-19 Safety Plan intended for all ACRD sites, employees, subcontractors and essential visitors. This Safety Plan will be updated, as needed, to reflect the best, most current medical/safety information available.
ACRD COMMUNITY & INFORMATION SERVICES
PROVINCIAL HEALTH GUIDELINES
TESTING
Anyone who is concerned that they may have been exposed to, or is experiencing symptoms of COVID-19 should use the BC Self-Assessment Tool to see if they need testing before calling the COVID-19 Testing Call Centre.
Testing is available for individuals experiencing symptoms of COVID-19.
COVID-19 Call Centre 1-844-901-8442
MOUTH RINSE / GARGLE TESTING
Individuals (ages 4+) with COVID-19 symptoms can be tested using a gargle test or a nasopharyngeal swab. Both are good options and will tell you if you have COVID-19. The gargle test method involves swishing and gargling sterile salt water and spitting it into a collection tube. Before calling to book an appointment, please use the self-assessment tool at bc.thrive.health to determine if you or your child needs a COVID-19 test. If a test is recommended, call 1-844-901-8442 to book an appointment (daily 8:30 a.m. - 8:00 p.m.).
WHAT TO EXPECT AND HOW TO PREPARE
Individuals wanting the option of having a saline gargle test need to review the instructions before coming in for testing, as there is some preparation required.
PREVENTION
Following the advice from the Ministry of Health and the BCCDC, residents are also reminded and encouraged to take the following steps to stay healthy and prevent the spread of infections:
Wash your hands often with soap and water for at least 20 seconds. Using soap and water is the single most effective way of reducing the spread of infection
If a sink is not available, alcohol based hand rubs can be used to clean your hands as long as they are not visibly soiled
Do not touch your face, eyes, nose or mouth with unwashed hands
Avoid close contact with people who are sick
Cover your mouth and nose with a disposable tissue or the crease of your elbow when you sneeze or cough
Regularly clean and disinfect frequently touched surfaces
Stay home if you are sick to avoid spreading illness to others
Do not share food, drinks, utensils, etc.
Click for more tips on social distancing
or to download and print for yourself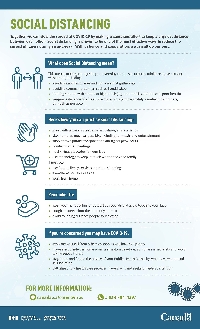 To talk to a provincial ServiceBC agent about non-health related information and services such as
Child care
Travel restrictions
Business and funding support
Text 1-604-630-0300 or Call 1-888-COVID19 (1-888-268-4319)
Service is available 7:30 a.m. to 8 p.m. Pacific Time.
BC COVID-19 Data
Visit the BC COVID-19 Dashboard or click on the image below for the latest case counts and information on recoveries, deaths, hospitalizations, testing and more.
NEWS RELEASES
MORE INFORMATION ON COVID-19
OTHER RESOURCES
SOCIAL MEDIA SITES TO FOLLOW