Novel coronavirus (COVID-19)
Port Alberni, BC - The Alberni-Clayoquot Regional District (ACRD) and City of Port Alberni are actively monitoring the global, national, and local impacts of COVID-19 and are proactively preparing for any foreseeable potential impacts.
As the lead agencies for British Columbia, the BC Centre for Disease Control (BCCDC) and the BC Ministry of Health are closely monitoring the situation and will provide guidance to the public and local authorities. As local governments, our main role is to help provide accurate and timely information to the public, as well as protect our employees so that we can continue to provide and maintain services for our residents.
The ACRD and the City of Port Alberni have developed a joint Alberni Valley Novel Coronavirus Disease (COVID-19) Response Plan to help prepare for the potential arrival of COVID-19. The Response Plan aims to strengthen preparedness at the local level, both publically and within the two government organizations.
For a cohesive list of locally based community and information services , view or download: Alberni Valley Service and Information Sources West Coast Service and Information Sources Accessing Care on the West Coast
To follow local updates visit:
If you may have been exposed to COVID-19, residents are requested to contact HealthLinkBC by calling 8-1-1
Please DO NOT proceed to hospital or medical clinic if you think you have been exposed to COVID-19 - Call 8-1-1
Following the advice from the Ministry of Health and the BCCDC, residents are also reminded and encouraged to take the following steps to stay healthy and prevent the spread of infections:
Wash your hands often with soap and water for at least 20 seconds. Using soap and water is the single most effective way of reducing the spread of infection
If a sink is not available, alcohol based hand rubs can be used to clean your hands as long as they are not visibly soiled
Do not touch your face, eyes, nose or mouth with unwashed hands
Avoid close contact with people who are sick
Cover your mouth and nose with a disposable tissue or the crease of your elbow when you sneeze or cough
Regularly clean and disinfect frequently touched surfaces
Stay home if you are sick to avoid spreading illness to others
Do not share food, drinks, utensils, etc.
Click for more tips on social distancing
or to download and print for yourself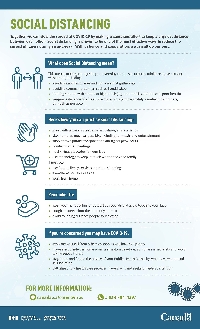 To talk to a provincial ServiceBC agent about non-health related information and services such as
Child care
Travel restrictions
Business and funding support
Text 1-604-630-0300 or Call 1-888-COVID19 (1-888-268-4319)
Service is available 7:30 a.m. to 8 p.m. Pacific Time.
NEWS RELEASES
April 8 COVID-19 Fisheries Committee - Protocols for Interactions with Coast Communities
April 8 - new COVID-19 BC Fisheries Committee formed
April 8 - BC Parks immediately closes all provincial parks for inscreased COVID-19 action
April 8 - BC Hydro announces COVID-19 Relief Fund
April 8 - FortisBC introduces new financial support for customers
April 7 Message from the District of Ucluelet to West Coast visitors
April 7 BC Wildfire Service - Category 2, 3 Resource Open Fire Bans
April 3 2020 School District 70 - Superintendents Weekly Message to Parents
April 3 VIDEO The Peak 93.3 FM - Dr. Paul Hasselback, Mayor Sharie Minions on THE PEAK this morning
March 30 VIDEO - COVID-19 Community Update with Mayor Minions and Dr. Lambiotte
March 29 Media Release - Provincial Grocery Store Guidelines
March 26 Media Release - Province Issues Open Burning Restrictions
March 24 - Public Notice - ACRD Board of Directors Meeting and Social Distancing
March 23 Public Notice - School District 70 Closing all school playgrounds
March 22 Media Release - Port Alberni and ACRD Playgrounds Closed Until Further Notice
March 21 Media Release - The City of Port Alberni and ACRD Urge Tourists Not To Travel To The West Coast
March 20 Public Notice - Kennedy Hill Project Update - COVID-19
March 20 - BC Transit Mandate Letter
Official statement regarding COVID-19 social distancing measures on transit
March 17 Public Notice - ACRD Modified Service Delivery & Public Gatherings
March 16 Media Release - City of PA & ACRD COVID-19 Update
March 14 Media Release - City of PA & ACRD COVID-19 Update
March 13 Media Release - City of PA & ACRD Recommendations
March 12 Media Release - City of PA & ACRD Open Level 1 EOC
March 11 Media Release - City of PA & ACRD COVID-19 Response Plan (Version 1)
March 9 Media Release - City of PA & ACRD Actively Monitoring COVID-19
March 7 Media Release - City of PA & ACRD COVID-19 Update
MORE INFORMATION ON COVID-19
OTHER RESOURCES
SOCIAL MEDIA SITES TO FOLLOW