Sproat Lake Marine Patrol
SLMP info in PDF
Life is fragile
wear your lifejacket!
"There were a total of 1,120 powerboat drownings in Canada during 1991-2000" (Drownings and other,)
"Males 15 years and older accounted for 90% of powerboat drowning" (Drownings and other,).
"Every year, 200 Canadians drown while boating. Of those who drown, 90% are not properly wearing their lifejacket" (source unknown).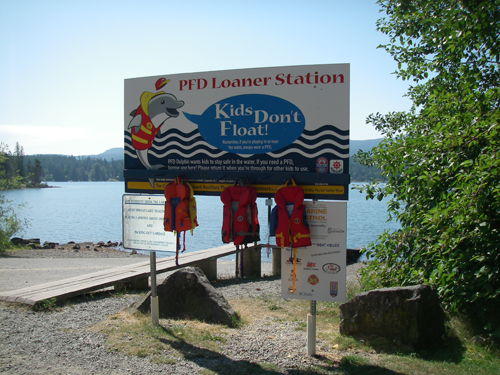 Program History
The Sproat Lake Marine Patrol has been up and running for nine consecutive years and has developed and expanded since then.
Our presence on the lake keeps boaters aware and is greatly appreciated by the residents and users of Sproat Lake. Our crew has formed many alliances around the community of Port Alberni which helps to expand and strengthen the program and our efforts to keep the lake safe and clean.
We work out of the Sproat Lake Provincial Park alongside the employees of the park to help keep the boat launch organized and provide tourist and lake information. In unison with the Sproat Lake Fire Department and B.C. Forest Service enforcement officers, we help to enforce fire bans and keep fires under control. The Canadian CoastGuard and Canadian Coast Guard Auxiliary support our "Kids Don't Float" Program. The program provides Personal Flotation Devices (PFD) to children around the lake who need them and is run on an honor system. Lastly, Alberni-Clayoquot Regional District who continues support has kept the marine patrol running for the past nine years.
What does the Sproat Lake Marine Patrol do?
The Sproat Lake Marine Patrol will:

Provide information and advice to the public about:

Boating regulations;
Water safety;
Rules of boating etiquette;
Navigational hazards;
Amenities and features of Sproat Lake and general tourist information.

Patrol the lake to:

Observe and report dangerous watercraft operation;
Offer assistance that is compatible with the qualifications of the employee;
Observe on-shore activities. Record and report activities or incidents of concern.

Maintain patrol boat and other equipment and other facilities.
Collect and record water clarity and temperature at predetermined locations.
Where can we find the Sproat Lake Marine Patrol?
The marine patrol is stationed at the Sproat Lake Provincial Park. Throughout the day the marine patrol will be located at the boat launch during expected peak volume. When the marine patrol is not at the boat launch they will be patrolling the lake completing daily patrols.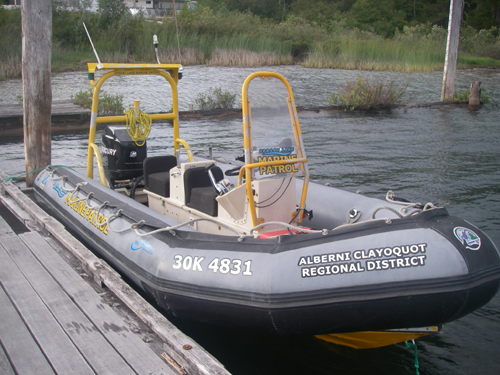 Who sponsors the Sproat Lake Marine Patrol?
The marine patrol is sponsored and managed by a few local, provincial, and federal agencies. These being the Alberni Clayoquot Regional District, the Sproat Lake Fire Department, Public Works, Canadian Coast Guard, Canadian Coast Guard Auxiliary, the RCMP, BC Parks, and Transport Canada.
For more information visit:
References:
Drownings and other water-related injuries in canada 10 year research. (n.d.).
How to contact us:
Sproat Lake Marine Patrol
250-735-2563
250-735-2564
email: slmp@acrd.bc.ca
Alberni-Clayoquot Regional District 250-720-2700