TSP SAMPLERS Before 1991 PM was measured using Total Suspended Particulate (TSP) samplers. The Court House site (4th and Angus) was one of the oldest monitoring sites for fine particulates in the provincial network, with measurements dating back to February, 1985. PM 10 SAMPLERS After 1990 PM analysis was based on PM10 sampling. From 1992 to 1995 three PM10 samplers were placed at the Courthouse, Auto Marine, and the Fire Hall. TEOM In early 1996 a permanent PM 10 sampler called a Tapered Element Oscillating Microbalance (TEOM), was installed at the Harbour Quay and the other samplers were removed. The TEOM provided continuous measurements of PM10 levels until 2011. It was managed by paper mill as part of its permitting obligations. EBAM In January, 2007, in an effort to provide better air quality data, the Air Quality Council and the Ministry of Environment installed a special piece of PM 2.5 sampling equipment called the E-BAM Mass Monitor on top of the Alberni Elementary School. It provided valuable air quality data from September, 2007 to December 2009. TEOM and EBAM readings for January 2008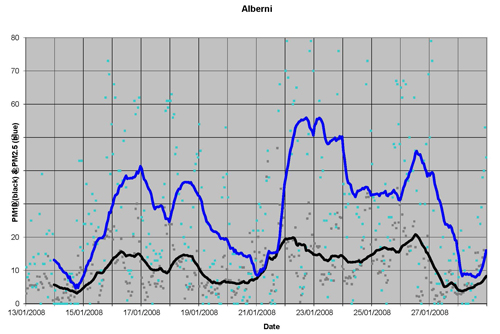 The blue line in this graph represents PM 2.5 data generated by the EBAM monitor on top of the Alberni Elementary School. The black line represents PM 10 data generated by the TEOM monitor at the Harbour Quay. Although PM 2.5 typically makes up about 60% of the PM 10, this graph indicates that the TEOM is underestimating ambient particulate matter. Due to TEOM mechanics, this was particularly true during cold, smoky weather. The TEOMís location on the water and related marine venting also caused underreporting of ambient particulate matter levels. EBAM daily PM 2.5 averages The following graph shows high PM 2.5 concentrations during an extended inversion period in January, 2008. During that month, values were over the Canada Wide Health Reference Level 70% of the time and over the Provincial Air Quality Objective 40% of the time.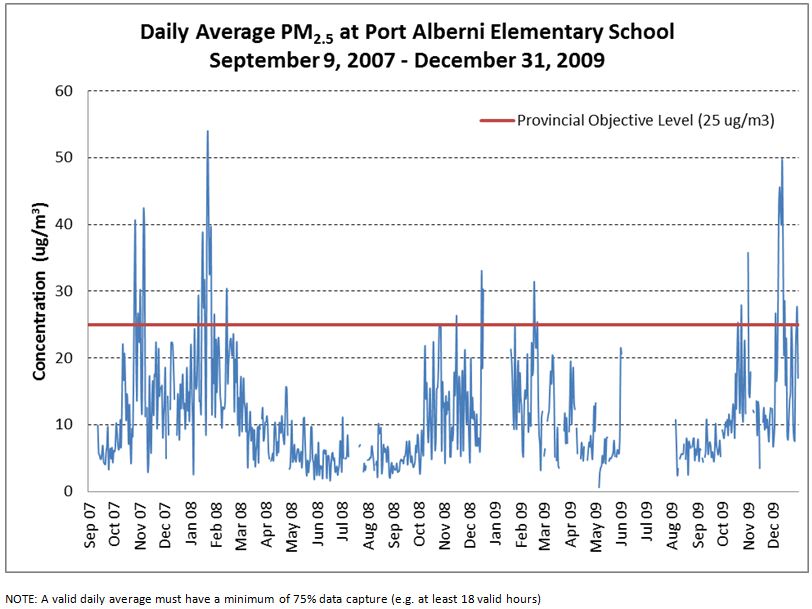 BAM In the spring of January, 2010, the EBAM was replaced with a Federal Equivalency Method (FEM) Beta Attenuation Monitor (BAM). It is now an official part of the provincial PM 2.5 sampling network. As of July 1st, 2011, Catalyst Paper took over the permanent operation of the BAM at the Port Alberni Elementary School and will be installing meteorological sensors as well.